A Small Cottage House. Immersed In Natural Style
Today's house is a small one-story house. The shape of the gable roof is simply decorated in a minimalist style. Suitable for making a vacation home or a garden house with a limited budget. Decorated with simple wooden furniture Emphasis on usability. It is a charmingly designed and decorated house.
DESIGNED BY STEVE MCGAVOCK
Exterior
This house is less than 100 sq m, but it has a very spacious interior. The house is decorated in vintage style but with a faint minimalist aura, simple and inviting, white, gray and black tones, contrasted with black aluminum edges perfectly. The house is within the family's vineyard. Therefore, the atmosphere around the house is fresh and lively.
.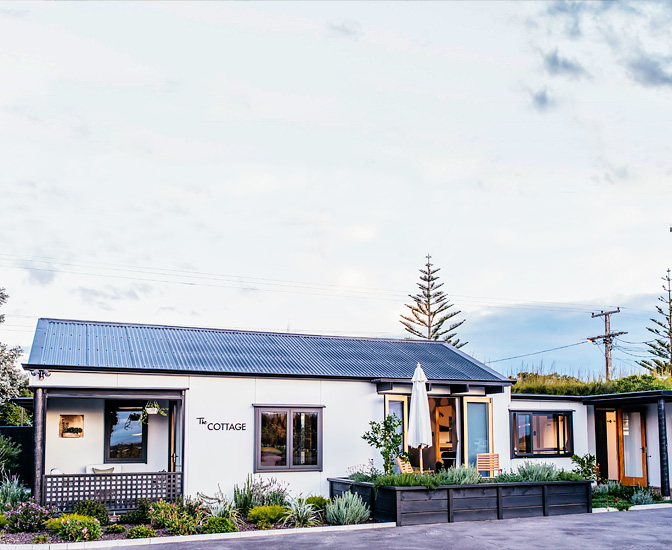 There is a balcony protruding from the house to receive the wind in the morning and evening. The wooden chair set gives a warm, gentle feeling that goes well with the home able to connect with nature as much as possible.
.
.
Interior
Simply decorated and emphasis on decorating in a minimalist style that separates the interior in a simple way. With furniture, there is no room divider inside. The interior focuses on black and white tones, wooden furniture. When entering the house, you will find a living room and next will find a kitchen decorated with white stainless steel and wooden windows.
Mezzanine bedroom
Even if it's a small house, there is a mezzanine under the roof for another bedroom. Plus it's not uncomfortable because the house has high ceilings. Still focusing on Kumame woodwork with natural tones. Ready to use warm white light to add warmth to the house as well.
Kitchen
The L-shaped counter saves space in the house. It is woodwork which, in addition to being used for cooking, can also be used for eating. On the side is a large, wide-opened glass that not only allows the smell of food from the kitchen but also absorbs the natural light and wind as well.
.
Living Room
Dressed in a minimalist style white tones alternate gray with carpeted floors making the house look warm which goes well with sofas and furniture with other decorations very well.
.
.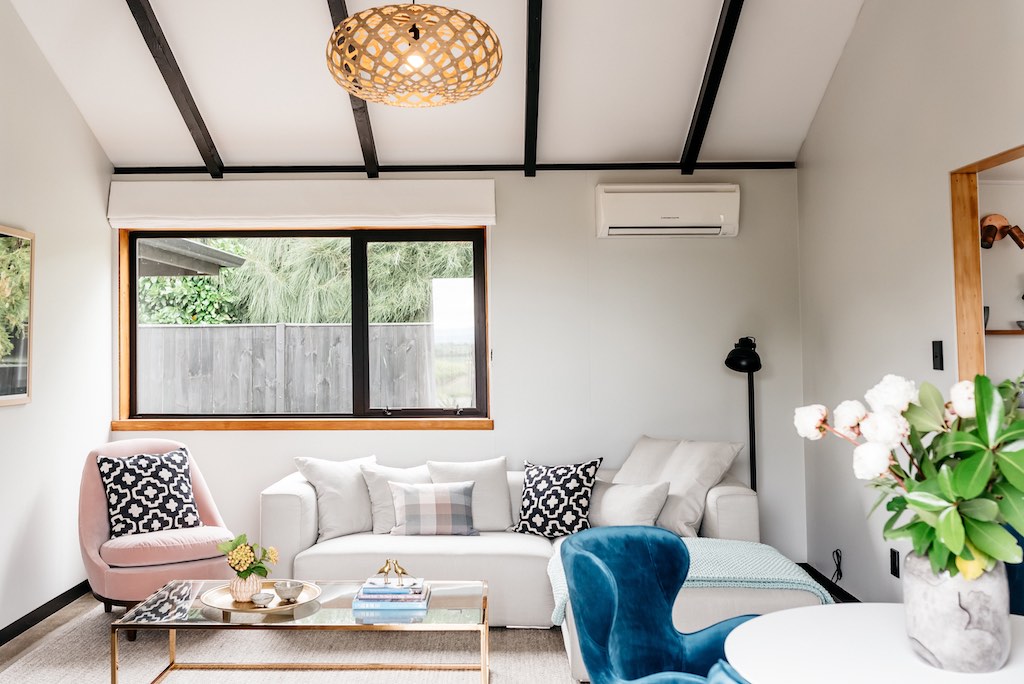 .
Bedroom
Control the tone, bright and inviting, decorated with floating furniture, emphasizing woodwork. The bed is decorated in pastel color style, making the atmosphere in the bedroom look cute and relaxing. Clear and airy with large windows beside the wall that help create dimension to make the room look wider.
.
.
Bathroom
Still decorated in a minimalist style, adding a touch of play by using geometric tiled tiles. An oval mirror with a wooden edge adds a subtle touch to the house as well, decorated in white tones, clearly demarcating the use of the bathroom. Clear and airy with a decent-sized window attached to the bathroom. Contrasting with the faucet and the black aluminum fabric hook, the bathroom interior is not only clean, gentle, yet looks dark and modern at the same time.
.
.
.
.
.
Cr. Boutique
Source: https://lastsessio.com/1004/
Today's house is a small one-story house. The shape of the gable roof is simply decorated in a minimalist style. Suitable for making a vacation home or a garden house with a limited budget. Decorated with simple wooden furniture Emphasis on usability. It is a charmingly designed and decorated house. DESIGNED BY STEVE MCGAVOCK Exterior This…